Roll 1D20 -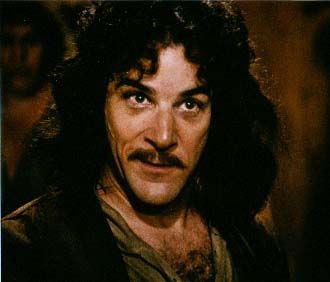 1. Repeats, "You killed my father! Prepare to die!" even though you've never met his father.
2. Insists on a small glass of claret between every pass.
3. Arrives without a sword; asks to borrow yours.
4. Whistles the same two bars of a song over and over again.
5. Repeatedly calls a halt to adjust her ill-fitting mask.
6. Reeks likes the bilge-water in a fishing boat, bringing tears to your eyes.
7. Throws whatever's at hand at you: seat cushions, sticks, silverware, small rocks, pieces of bread,
&c
.
8. Refuses to cross blades until a priest is present to provide the sacrament of extreme unction.
9.
Shrill incessant laughter
.
10. Demands that wine corks be placed on the tips of the blades.
11. Offers to flip a coin instead.
12. Refuses to acknowledge touches, even while bleeding profusely from multiple wounds: "That's a wine stain! Have at you!"
13. Brings a pistol to a sword fight.
14. Sneezes and coughs on you throughout the duel; will refuse any delay, insisting that he's getting better.
15. Attempts witty repartee, manages only schoolyard taunts.
16. Stops every few passes to change swords from a long leather bag and confer with his second on tactics.
17. Insists on a postponement: the ground is too soft, the sun is too low, the air is too damp,
&c
.
18. Interrupted by a stream of messengers with papers to sign, questions to answer,
&c
: "Sorry, this will only take a moment . . ."
19. Attempts to slash his initials into your clothing, succeeds only in tearing up your coat and vest.
20. Roll twice - this one's
really
annoying.