I've recounted the story of
'Gimli of Arabia'
on different forums over the years; I think this may be one of the first such posts.
I ran a typical hammer-throwing, axe-swinging dwarf fighter in a 1e AD&D game when I was in high school. At one point we found ourselves exploring a pyramid deep in a desert, and in the course of the adventure we found a +3 scimitar. The other fighter player characters in the party had died and the player was waiting to introduce his new character, so my dwarf was the only one in the party able to take advantage of this magical scimitar.

The dwarf was not proficient in the weapon, so he was less accurate when wielding it (and this was before weapon specialization in UA) until he could burn a proficiency slot, but it was a powerful magic weapon and we needed that as we were facing lots of undead in the crypts beneath the pyramid. As he continued to wield this scimitar, I had the character start embracing some of the local lifestyle: his rough woolen cloak was replaced by a silk aba, he sported a turban, he indulged in local jewelry, and so on. By the time our party left the pyramid and moved on to other adventures, he was a sort of "Gimli of Arabia," riding a camel and picking up a desert-dwelling illusionist as a henchman in the process. He was a lot of fun to play.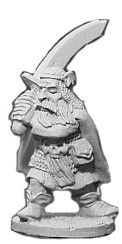 The character - who's actual name was Khazm, not Gimli - remains one of my favorite characters from any game and any campaign, but he also illustrates a couple of points about roleplaying games which are important to me.
First, Khazm developed not based on a 'character concept' dreamed up before the game started, but in response to the events of actual play.
One of the reasons I stopped enjoying 3e D&D fairly early on is that, in my experience, it worked against this sort of organic character development. I observed that feat chains, prestige classes and their prerequisites, and 1-20 builds made many players reluctant to take something for which they had not planned and run with it. I don't mean to suggest that the rules required this, and I don't believe it's true of all players everywhere, but I saw enough of it as both a player and a dungeon master to find it off-putting.

The idea that treasure should be matched to the characters is another big step away from my experience playing my dwarf fighter character, taking an unusual weapon and allowing the character concept to evolve to accomodate it, rather than giving the dungeon master a slip requesting "a hammer of thunderbolts, 'cause it's integral to my character concept!"
Over the years I've been told - always on gaming message boards, and never by anyone with whom I actually sat around a table - that my develop-in-play approach to characterisation is more suited to skirmish wargames than roleplaying games. 'Real roleplayers,' the unsubtle implication goes, begin with a 'fleshed out' character, and to do otherwise is simply playing some variation of myself. What's usually overlooked in their too-often sneering disdain is that I am not, in fact, a dwarf warrior in a fantastic realm of dungeons and dragons, or a swashbuckling highwaymen chasing a carriage over the moors on my black charger, or a steely-eyed gunfighter standing in bright sunlight on the dusty streets of Abilene, so my characters are already not-me right from the mother-lovin' giddyup.
What's important to me isn't who my character is at the start of the game, but who my character may become through suffering the slings and arrows of actual play. That means creating an involved backstory, or making up connections to non-player characters, or dreaming up funny mannerisms, or coining a catch-phrase, are trivial compared to my character's reaction to the unfolding events of the campaign. Planning for who my character will be in nineteen levels is just as inconsequential as trying to determine who he is before the campaign begins, and burgeoning rules complexity which leads to a lack of flexibility works directly against my style of play. In my experience, games which produce broad character archetypes work best for this; the more fiddly bits a character needs, the more difficult it can be to make changes on the fly. Simpler rules, without mastery traps, work best for this.
Second, with respect to those broad archetypes, Khazm was an otherwise bog-standard fighter, but adopting an atypical weapon and unusual cultural trappings for his race made him effectively unique in the game-world - this was the days before every demihuman race had an ice subrace and a sea subrace and a desert subrace and a jungle subrace, of course. It didn't take class abilities or feats or prestige classes to make him distinctive - the only rules-wise change to Khazm was spending a weapon proficiency slot on the scimitar after he leveled up - but rather I simply roleplayed him in ways, and surrounded him with trappings, which reflected his adopted culture.
Sometimes I hear that playing swashbucklers or gunfighters or gangsters is boring because all the characters are basically the same - guy with a rapier, guy with a Peacemaker, guy with a Tommy gun. There's nothing, they say, to differentiate one 5th level fighter from another without feats
et al
. Well, Khazm and I beg to differ.